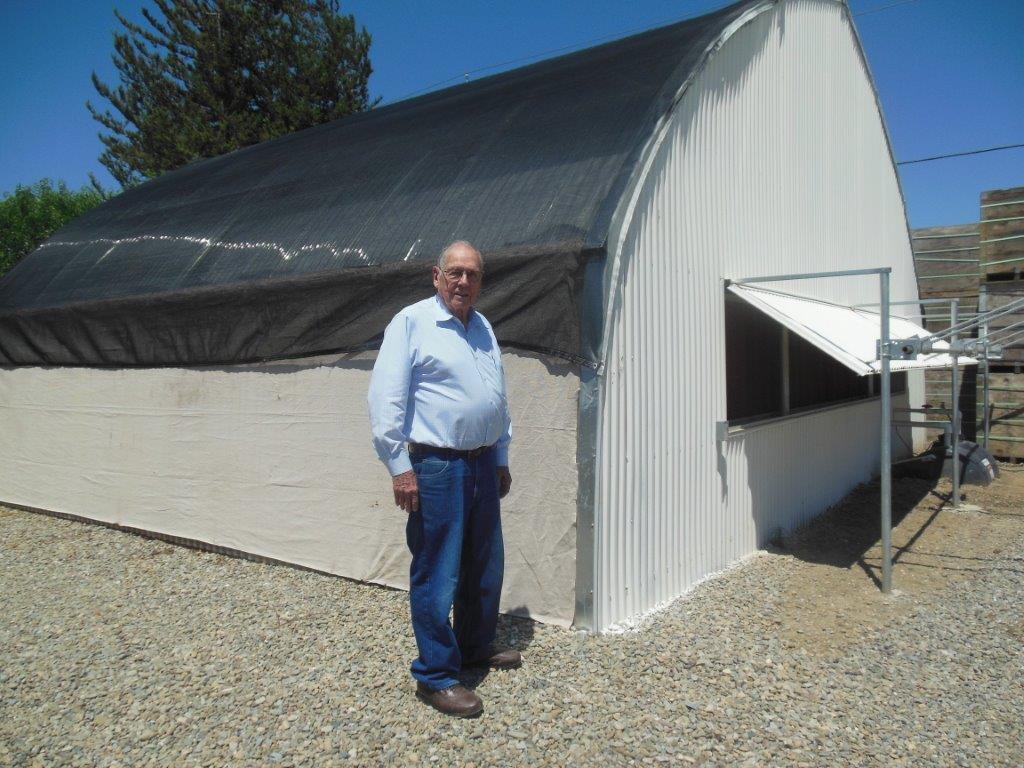 After 30 years as a fire fighter in Hayward, CA, Bart Ingles, 82, retired at age 55 and moved to the rural country of Patterson, CA in Stanislaus County. He bought a little piece of land to retreat from the madness of the Bay Area, not knowing that he would eventually pursue a passion he did not know he had—growing orchids and getting them to bloom for others who were unable to do so.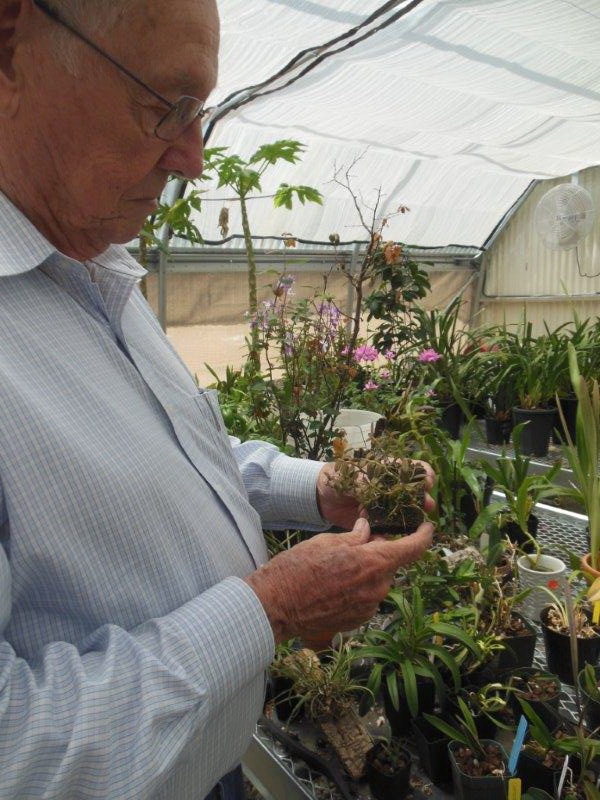 It all started one day a few years ago when his wife Marion Potter received an orchid as a gift, Bart explained. "We used to have orchids in the house and they would bloom once and then they'd sit around for a while. They would eventually die and that would be that. So, I took this one orchid and I tried to see if I could get it to bloom continually and I succeeded. After that, I kept trying to do it with other types of orchids and had success with them as well."
After that, Ingles became what he describes as a "hobbyist grower" of orchids and took the necessary steps to grow a larger quantity of these amazing flowers, with 25,000 species that grow naturally all over the world and are a favorite plant among horticulturists. "I bought a little greenhouse and decided to grow more orchids. Then I joined the Tropical Plant Society of Modesto, CA and started to meet other orchid growers. By sharing information and our experiences, I learned how to grow better orchids."
The Tropical Plant Society of Modesto meets the third Tuesday of each month at 7 p.m. at Stanislaus Elementary. It regularly hears from guest speakers – among them American Orchid Society judges – and has a show-and-tell table of blooming orchids and tropical plants.
As Ingles got more and more into growing orchids, his operation grew as fast as the plants could. He eventually hooked two greenhouses together, but pretty soon people were telling him he needed a larger facility. So, through his son-in-law, Mark Woods, the owner of Woods Transplants in Gustine, CA a farm consisting of 28 acres containing 54 greenhouses and totaling 400,000 square feet of greenhouse space, was able to get a 30' x 24' commercial greenhouse from Agra Tech, the world's leading manufacturer of greenhouses used all over the planet to grow literally every type of plant imaginable.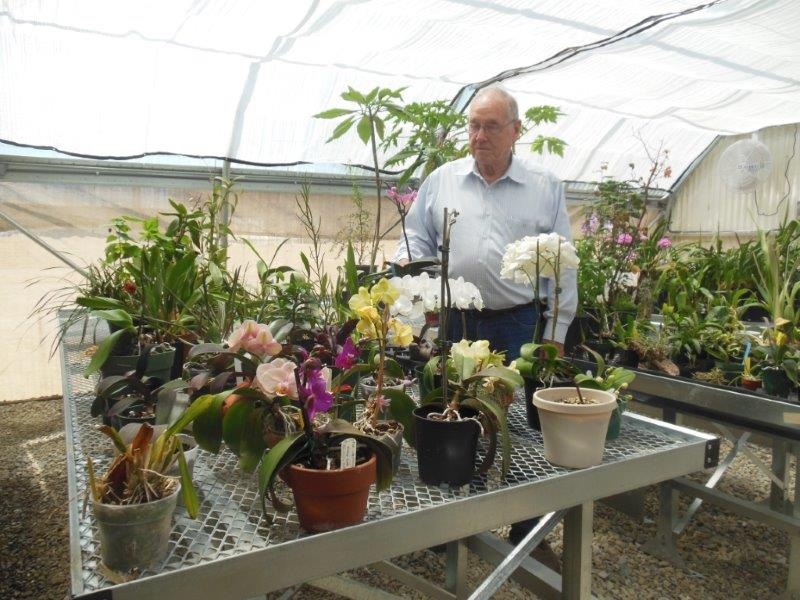 Agra Tech freestanding bench
Presented to him as a gift from Mark Woods and his stepson John, Bart was obviously pleased and quickly became enamored with all of the great things he could now do with his Agra Tech greenhouse, known as their North Slope model. "We met with Jim Bergantz from Agra Tech and he suggested the best structure and systems for us," Bart said. "The goal is to keep the humidity up and the temperatures down. Here in Patterson, we often have 100 degree temperatures, but to grow these orchids, we need to have it at around 80-82 degrees which we can achieve with the greenhouse. This Agra Tech greenhouse allows me to spread out my plants, so that they have room to grow. There is so much more air movement in this greenhouse and I can completely control the environment, so it's ideal."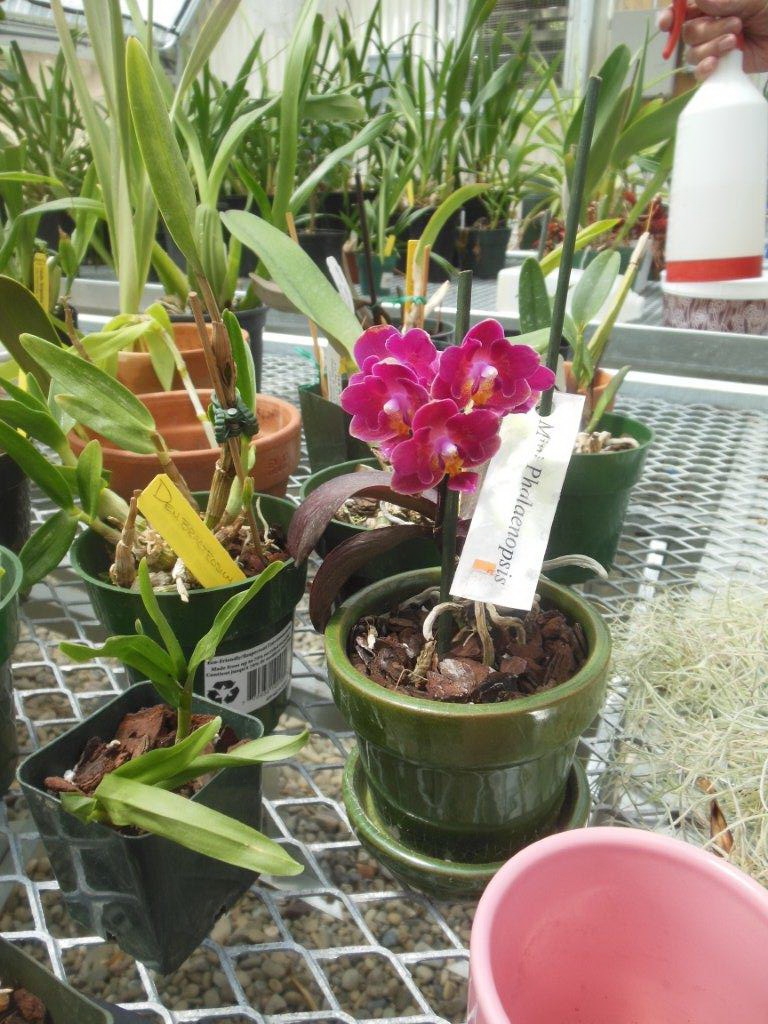 Today, Ingles grows a wide range of orchids with long names such as Dendrobium, Epidendrum, Encyclia and Phalaenopsis, but he has also been able to grow more than just orchids in his Agra Tech greenhouse. "I actually have a papyrus tree in there and I also have a few pineapple trees and they're doing great!"
His hobby has turned into a full-fledged operation, but it will always remain that way, according to Ingles. "People tell me you should start selling your orchids, but I have no interest in that. I give them to friends and sometimes people will bring me their ailing orchids to see if I can help them. A portion of this Agra Tech greenhouse has become an orchid hospital in a way and in many cases I can turn them around–thanks to this beautiful greenhouse from Agra Tech!"