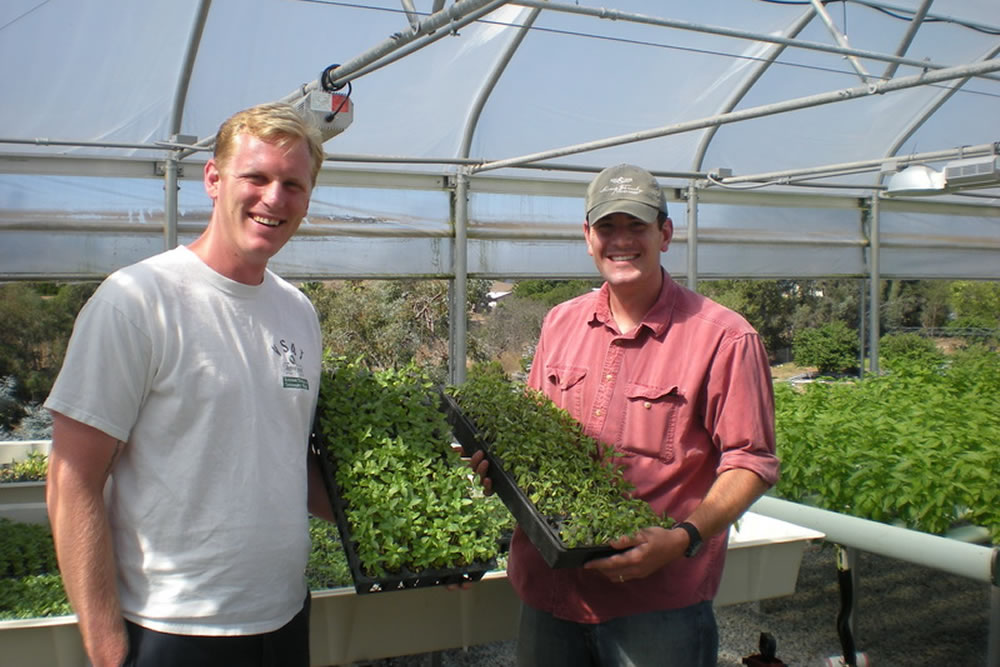 With a high percentage of unemployment among our country's war veterans, Archi's Acres and Veterans Sustainable Agriculture Training (VSAT) fulfill a pressing need by providing sustainable careers in small-scale organic farming for veterans. By training servicemen and women to establish small farms and setting them up for success within the agricultural industry, VSAT has graduated more than 100 veterans to work for existing farms or starting their very own small businesses and/or family farms. This effort is the brainchild of Colin Archipley and his wife Karen, an amazing couple that is passionate about their organization and proactively supports sustainable agriculture while serving our nation's veterans.
The couple was married while Colin was serving as a rifleman in the United States Marine Corps, and between deployments to Iraq, they were able to turn a three-acre unmaintained avocado farm in the hills above Escondido, California into a thriving farm. By combining their drive and passion for organic farming, the Archipleys have converted their land into a state-of-the-art, organic, hydroponic greenhouse operation. After purchasing two Thermolator greenhouses from Agra Tech, Inc, the world's leading manufacturers of commercial greenhouses, Archi's Acres was born.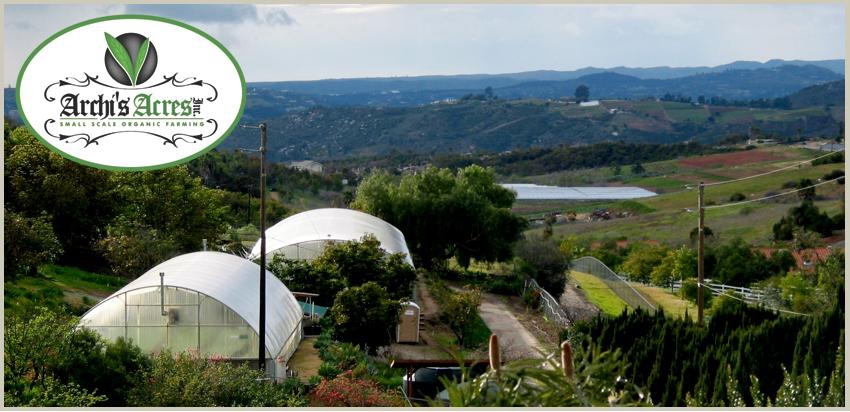 Known for being a leading manufacturer of quality greenhouses and accessories as well as a distributor of world-class equipment for commercial, horticultural, and agricultural growers, retail nurseries, research and education facilities, Agra Tech, Inc. was able to help the Archipleys throughout the entire selection and installation process. Today, this modest hydroponic farm produces living basil and kale, and more for local markets. Recently, Archi's Acres signed a contract with Whole Foods to sell its living basil in selected locations throughout the West.
By taking the operation to a whole new level starting in 2007, the Archipleys decided to pursue their shared vision for establishing an entrepreneurial incubator for transitioning veterans. As a result, the Archipleys founded the Veterans Sustainable Agriculture Training (VSAT) program, to help veterans by educating them about organic farming and how to start their own businesses and farms.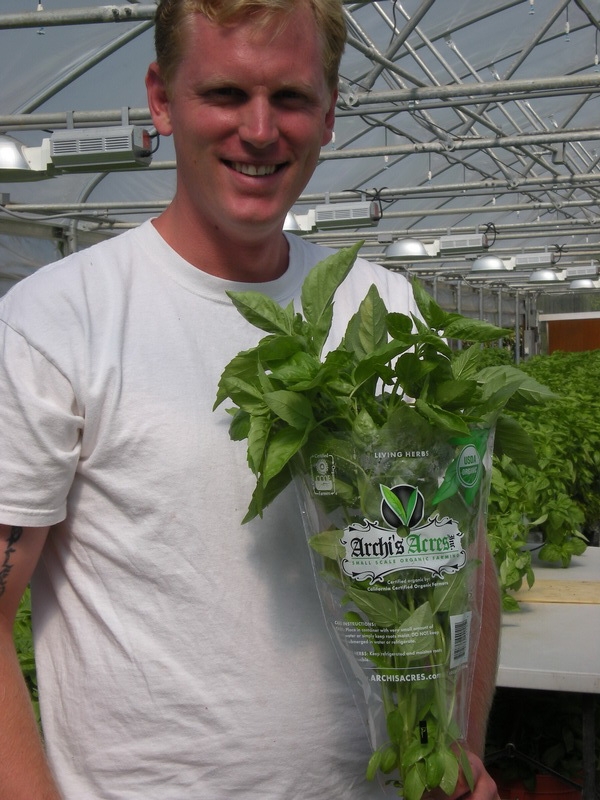 "We give veterans a hand up instead of a handout," Karen Archipley explained. "We're in a booming industry right now, so the future opportunities for these graduates are potentially great. And working at a farm is also therapeutic for these veterans, because the farm is an ideal place to de-compress while you're making a living."
Since accepting its first class in 2007, VSAT has trained more than 100 veterans for careers in sustainable agriculture and other sectors in the food supply chain. And due to the project's unprecedented success, Archi's Acres is presently also rolling out its VSAT program at locations throughout the country, while using greenhouses, made by Agra Tech, Inc. By working hard and learning more about the organic farming industry as they continue this miraculous journey, Karen and Colin have transformed their vision into the very first local company in their industry with a national footprint.
After completing VSAT's six-week (270 hours) program, veteran/students can tap into the valuable business relationships that the Archipleys have established with industry leaders and experts to find opportunities for its graduates. Currently, many VSAT graduates are thriving farm owners and workers, soil-testing pioneers, restaurateurs, and owners of food companies, just to name a few.
VSAT students are taught about how to flourish in a self-employed capacity, by taking courses with titles like Organic Production Methods, Hydroponics, Greenhouse Production, Irrigation maintenance, installation and sales, Food Handlers Management, Farm Ownership and Management, Introduction to resources for farm loan programs from Farm Service Agency, USDA, Whole Foods and private lending. Also VSAT's curriculum includes an Introduction to Business and Entrepreneurship Center (BEC) and teaches their students about how to building a business plan model; resume building and introductions to agricultural leaders.
After completing a third-party Agriculture Irrigation Specialist examination and scoring at least 70% or better on the final exam, VSAT students receive a certificate of completion from Archi's Acres, in addition to a certificate from California State University San Marcos, the school that sponsors the VSAT program.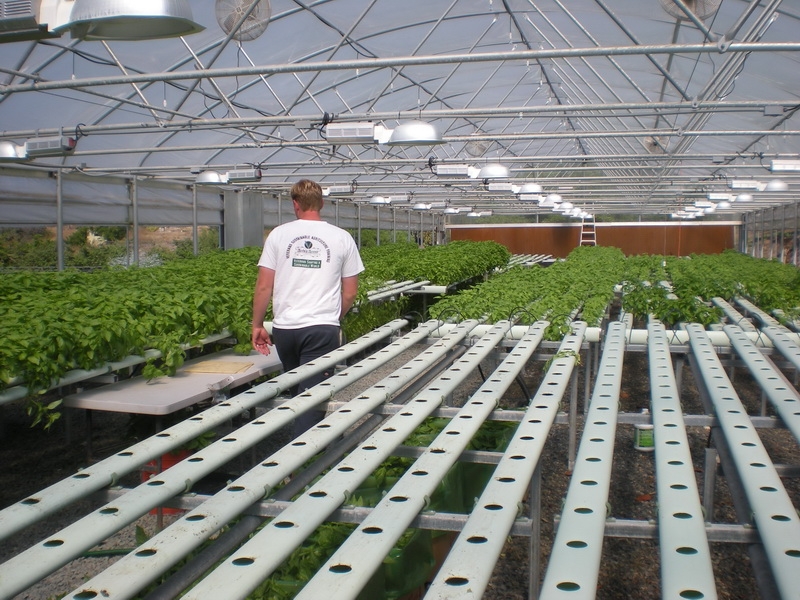 According to Agra Tech, Inc.'s web site, the Thermolator is one of the manufacturer's most popular quonset greenhouses, also known as a "tunnel structure". Growers have successfully assembled literally thousands of Thermolator greenhouses / tunnels since 1980 and this model boasts the best value per square foot of all our greenhouses as it can be used for practically all crops in almost all weather conditions and climates.
By using Agra Tech, Inc.'s Thermolators for hydroponic farming, Archi's Acres can produce more crops than your average farm, according to Colin Archipley. "We can do 15-16 turns annually, while the average with soil is around 11-13 turns. Without a greenhouse, farms can normally turn their crops only 6-10 times per year. By going this route, we also avoid pest-related problems that come from soil-born crops. Also, our water (which is not cheap in Escondido) is used more efficiently through our hydroponic systems."
Here are basic stats on Agra Tech, Inc.'s Thermolator greenhouses: They come in two standard widths: 30′ & 35′. The 5′ or 6′ sidewalls allow full use of the span and may be equipped with either roll-up walls or dropwalls for convenient access to crops from both sides.
The Archipleys love their Thermolator greenhouses from Agra Tech, Inc. and have nothing but praise for the company and their Sales Engineer Jim Bergantz. "Jim comes and speaks to all of our classes, to share his expertise and vast knowledge of the greenhouse industry. For that reason, we are proud to be partnering with Agra Tech, Inc. now and in the future. As we expand and purchase more land, we'll be buying more greenhouses from Agra Tech, Inc. and continually recommending them for use by our graduates, because it's definitely our company of choice."