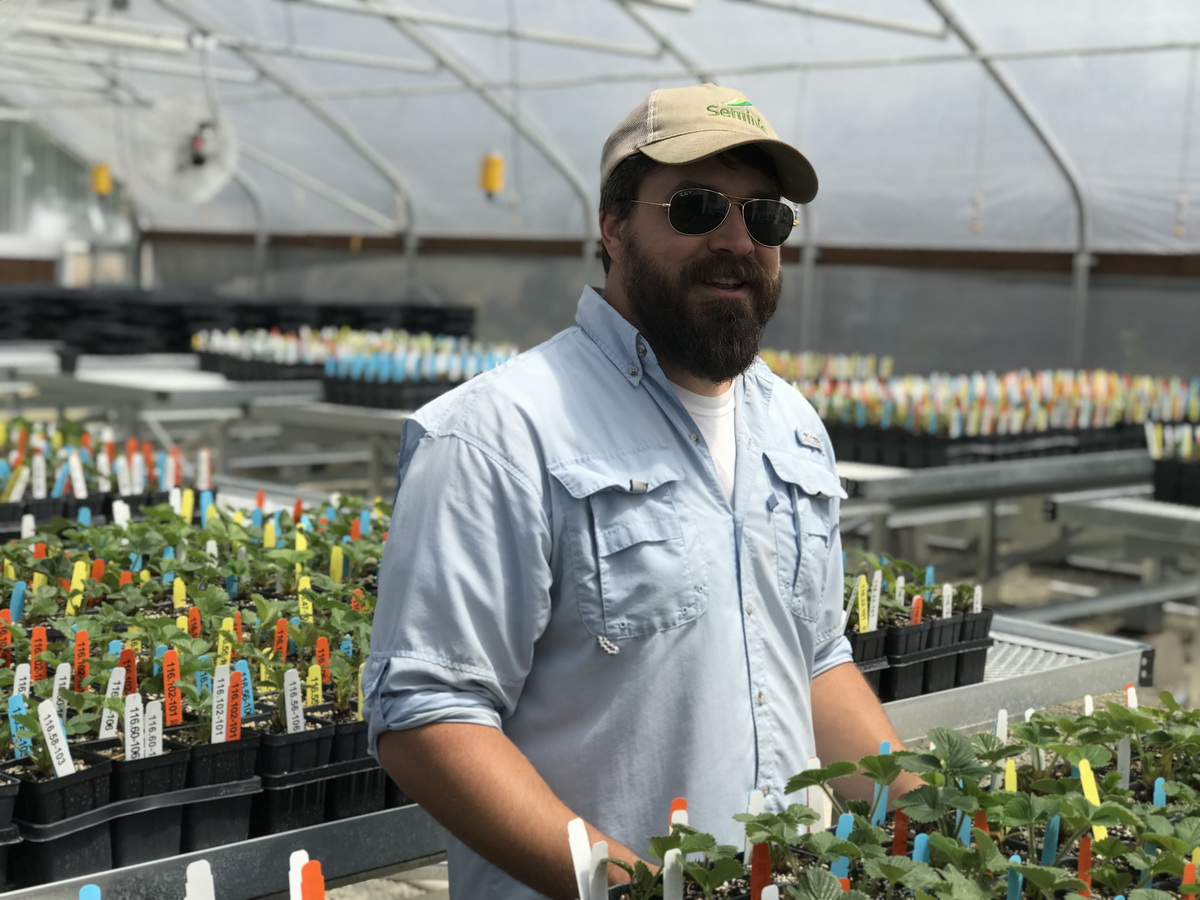 To create the world-class strawberries of the future, California Berry Cultivars, LLC (CBC) purchased a 2,100 sq. ft. Thermolater greenhouse from Agra Tech, a leading manufacturer of commercial greenhouses, to utilize cutting-edge technology and pursue it lofty goals. This is the second greenhouse that CBC has acquired from Agra Tech after buying their first one back in 2016 for their Oxnard, CA location.
The highly-skilled team at California Berry Cultivars is currently engaged in developing new cultivars for use in both short-day and day-neutral markets. Their efforts focus on the balanced development of cultivars with superior yield, quality, and environmental tolerance traits, according to the company's web site.
Their second greenhouse in French Camp, CA is less elaborate, but will still play an important role for the company as it breeds strictly strawberries for future integration into farms all over the world.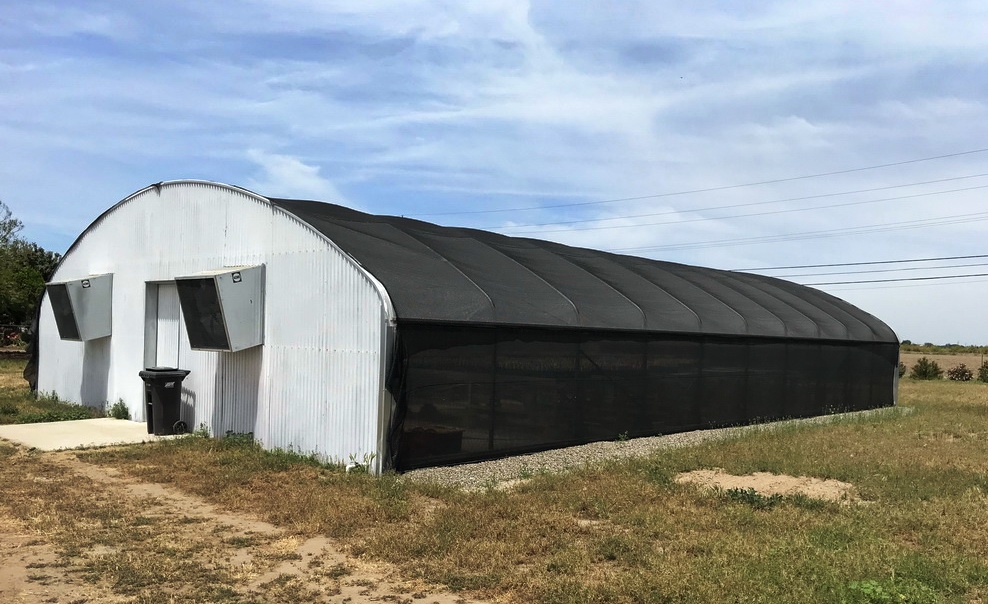 Project Leader Dr. Kyle VandenLangenberg has been spearheading this project since its inception almost four years ago and is happy to see that everything is proceeding as planned. "Our goal is to release at least one new variety every other year starting in years six or seven," he said. "In this location, we need things to be kept as cool as possible, because it gets hot in the valley. The system that ATI helped us to select includes an evaporative cooler, two 36 inch fans along with our HAF circulator fans, and it's really working well. I'm able to keep the heat down by 20-25 degrees, with a 40% shade cloth in it. That's pretty impressive, because without the fans and the evaporator, it would be 120-140 degrees in that greenhouse on some days."
CBC will need to rely on this greenhouse for at least a decade or two and ask it to perform at a high level. "I need interior volume at this location and I'm getting it with the Thermolator," VandenLangenberg said. "It's an excellent value for what we spent, including the structure, the benches, the concrete, the power and the irrigation--everything. It has a partial concrete floor in it, with a 10 foot concrete pad in the front of the greenhouse and another one down the middle and the rest of the floor consists of compacted gravel. We will have to replace the polyethylene single roof film every 3-4 years, of course, because it's a wearable part, but otherwise we won't have to touch it, which is nice."
VandenLangenberg is delighted with his second greenhouse and credits much of its success to the people at Agra Tech. "It's a good step forward for our program and I always like working with Agra Tech," he said. "Jim Bergantz is always very responsive and thorough and we also worked closely with Anita Pound on some of the design elements. Jim understands that we are still a startup for the most part, so we need the right tools to achieve our goals, but we obviously don't want to overpay for anything or buy too much too soon. By understanding what we're doing here, Jim isn't trying to oversell us and we appreciate that."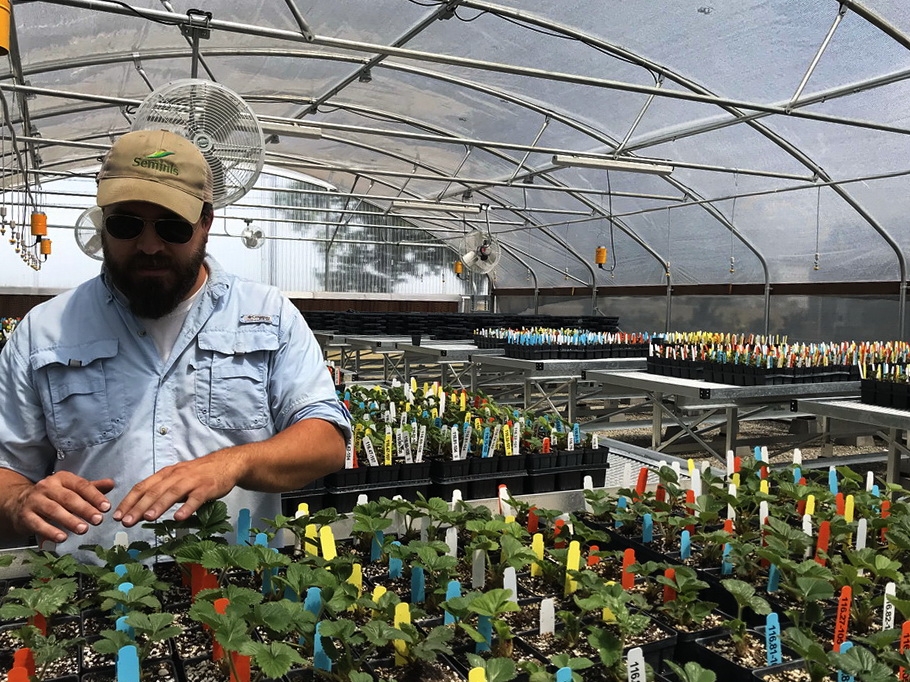 The French Camp greenhouse with six foot side walls will be used by CBC strictly in the spring and late summer/fall, VandenLangenberg explained. "In April and May, we use it for six weeks and then again for eight weeks during August and September. The applications are similar with thousands of strawberry plants in the greenhouse and that's why the components of the building need to work. If we lose 10 percent of that crop that's an enormous big step back for our breeding program. We haven't had any issues with our Oxnard greenhouse and that is the reason why we're continuing to work with Agra Tech now and in the future. We've established a trusting relationship with them and as we go forward we are confident that they will help us as we grow and succeed in achieving our goals.
"We are on the right path toward creating superior strawberries, but the process is slow and we can't rush it, of course," he said. "The typical breeding cycle for strawberries is 6-10 years--from the original cross-pollination that we perform in our Oxnard greenhouse all the way to when we hit the market. We spend years testing under typical farm conditions before a grower ever plants one of our cultivars. This helps to ensure high-quality products and allows us to make best-practice recommendations, so that growers can maximize their quality yields while shippers maximize their arrivals."
Throughout every aspect of their on-farm testing, CBC also conducts vigorous disease screening trials for common soil-borne diseases in order to provide its customers with the most disease-resistant cultivars. They also perform on-farm trials using various horticultural practices in order to ensure best-practice recommendations for each of their products, VandenLangenberg explained.
In years to come, CBC will be bringing new strawberries to the world, to go into your breakfast cereal in the morning or appearing in your favorite desserts. "We will have a full array of products available for the marketplace," VandenLangenberg said. "We will also continue to conduct dynamic scientific research as we create this long train and move it down the track as we produce the finest strawberries in the world."