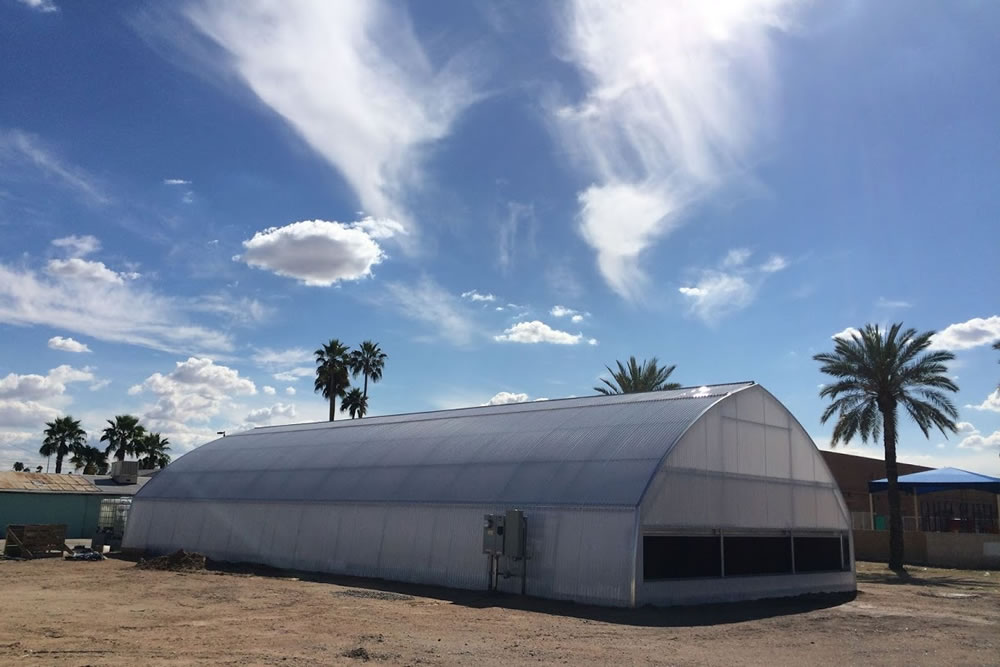 The International Rescue Committee (IRC) responds to the world's worst humanitarian crises, helping to restore health, safety, education, economic well being, and power to people devastated by conflict and disaster. Founded in 1933 at the call of Albert Einstein, the IRC is at work in over 40 countries and 26 U.S. cities helping people to survive, to reclaim control of their future and to strengthen their communities. Recently, Agra Tech, a leading manufacturer of commercial greenhouses, played an integral role in helping IRC in Phoenix, AZ to establish a small greenhouse in conjunction with their New Roots Program.
The New Roots Program is designed to help refugee farming families achieve food security, self-sufficiency and economic empowerment through their agricultural businesses. To achieve these, the IRC provides the following services to help new Arizonan farmers/ranchers: Agricultural education and business training; Agricultural business development; and Community agricultural partnerships.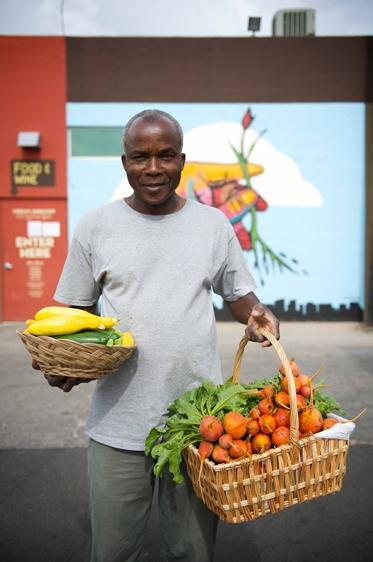 With three community gardens, aquaponics, and more than 100 participants gardening, the IRC in Phoenix provides training for new producers at multiple farmers markets around town and currently has program participants selling at four different farmers' markets, three popup stands, and multiple retail locations. By also providing a John Deere tractor, implements, hand tools, processing supplies, and marketing supplies, the farmers involved are set up for success. Partners for the program include Rotary Club, Vitalyst Health Foundation, City of Phoenix, Redemption Church, Hickman's Eggs, United Dairymen of Arizona.
By playing an active role in affecting city policy surrounding community gardens and farmers' markets, the New Roots Program has changed the way people in low income areas attain food in Phoenix. Tristan Dunton, 25, is the Community Garden and Hydroponics Coordination and part of the New Roots Farm Program. We sat down with Dunton recently to discuss his most recent project and how Agra Tech, Inc. in Pittsburg, CA helped to make it all happen.
Tell us about the genesis of your project for IRC Phoenix.
The project started in 2014 with the support of the Steele Foundation, and in the process we were involved in changing policy. Back in 2012, the city in conjunction with some people at IRC Phoenix developed the Community Garden Policy that allows us to build anything under 200square feet without electricity hookups and without a permit. Obviously, anything larger or, requiring an electrical hookup, requires a permit. Before we began this project, we had to get the language of the policy clarified, because without it we were going to have difficulty getting our greenhouse going–which we did.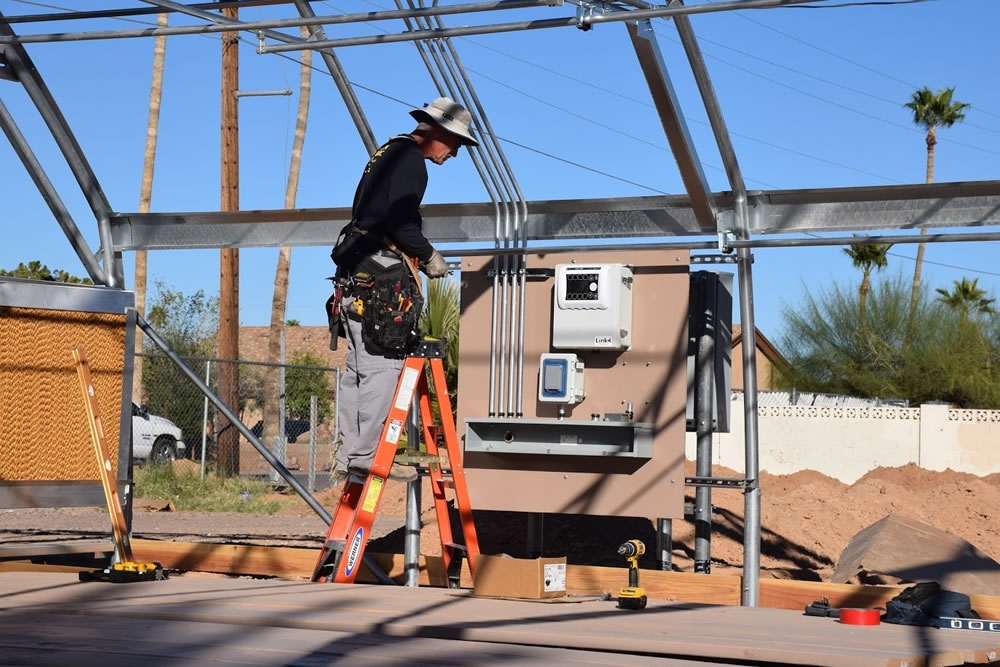 Tell us the genesis of your current project and how it came to fruition?
Right after getting hired by the IRC Phoenix, we signed a 10-year lease at a one-acre lot on 1616 Camelback Road. According to the City of Phoenix, any structure more than 200 square feet requires a permit. So, we needed to navigate through the process and make this happen without getting seriously delayed. We were moving a little faster than the City, so that's where we encountered some problems. Long story short, we got our permit in January of this year, so I started working with local engineers to make it happen. It was pretty amazing. We started construction earlier this year and we just finished about a month ago.
You ran into some obstacles along the way. Can you describe them?
Yes, it was definitely a learning process and I had to be a quick study on city politics as a result. First, I didn't know how to formalize the language to represent the project appropriately. I had to define what I was building, which is a community garden greenhouse. When I called it a "teaching greenhouse" I think the city started looking at us as a school, which we are not. So, there was a period of time there where it looked daunting. But, with the help of a civil engineer, a local architect and a contractor–we eventually got it done.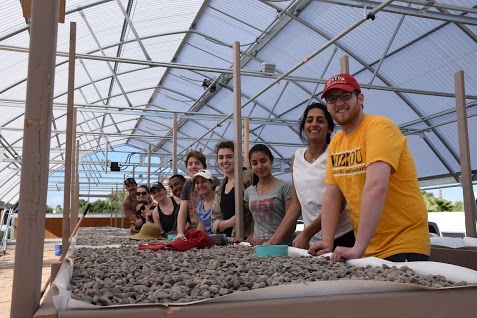 How is your community garden greenhouse doing currently?
It's been great! The Agra Tech greenhouse looks beautiful and we already have so many people involved in the project. People in this area get limited access to fresh food and this project is going to change that. We're receiving a ton of support from the community and people are volunteering right and left.
What are you growing?
Tomatoes, peppers and lettuce will be our main cash crops, but we will also be growing things like celery, turnip greens, Swiss chard and other items like that. The real important thing about our system is that we will be able to grow food year-round. We also plan to eventually raise tilapia here as well. The grant that we received for this project was to build a greenhouse and by the third year of funding we have to be 100% sustainable. We're technically on our second year, so we have much to do.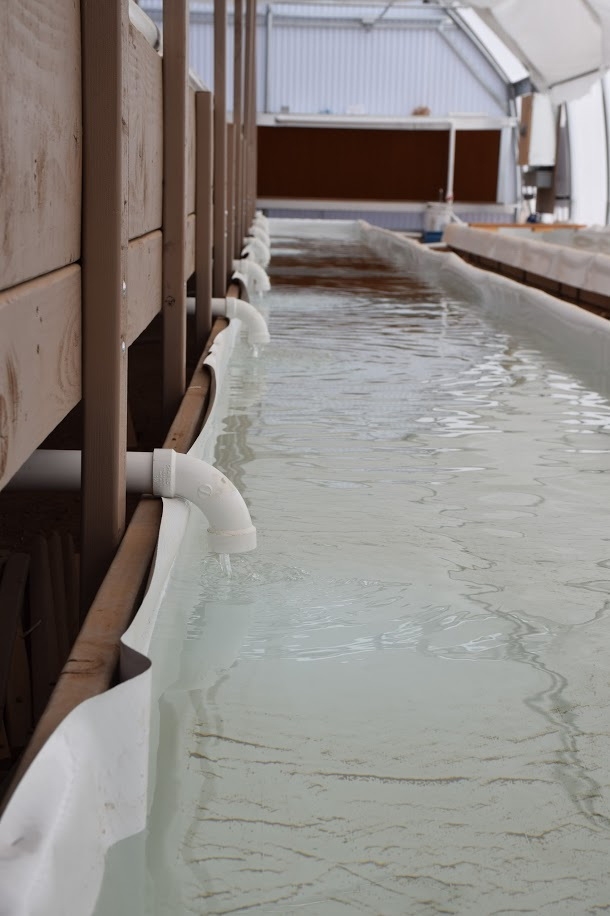 What was Agra Tech's role in helping you with this project?
They were terrific. I guess I pretty much dealt with everyone there at Agra Tech at some point. Everyone was super friendly and really helpful. Jim Bergantz was a great proprietor on this project and he got back to us promptly every time. Anita Pound and James Roberts, their technical guy, was exceptional. They have so much knowledge and they've been doing this for so long that that working with them was a no-brainer.
What do you think the future of 1616 Camelback Road will be like?
If we can grow food to feed the people of Phoenix and on top of that, sell much of it to make enough money for us to be sustainable, that will be very satisfying, to say the least. Now that we have a great greenhouse and are finally here growing food, I think we'll achieve some impressive things here rather quickly.