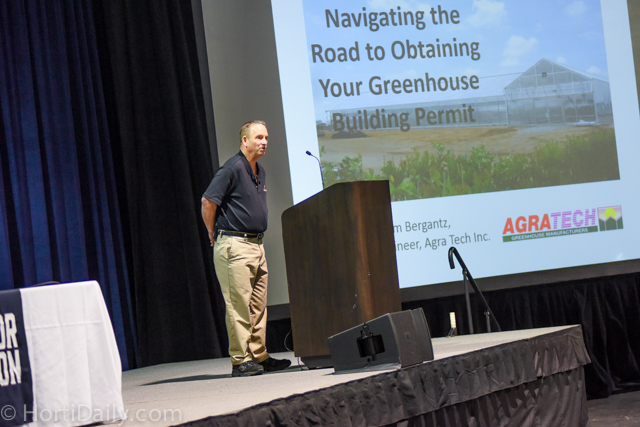 Agra Tech, Inc. is one of the largest manufacturers of commercial greenhouses in the Western US, but they do so much more than selling structures and growing systems to greenhouse farmers. Since day one, Agra Tech has played an integral role in helping to advise the entire industry and assisting people as they enter this field. To this end, the experienced and highly-skilled professionals at Agra Tech speak at seminars, conferences and other events. They don't get paid for these presentations, but do it for the betterment of the industry as a whole.
Recently, Jim Bergantz, a sales engineer for Agra Tech, made a presentation in front of 150 people at the 4th Annual Indoor Ag Conference in Las Vegas. The title of his speech was Navigating the Road to Obtaining Your Greenhouse Building Permit.
The blog team at Agra Tech sat down with Bergantz to discuss the ins and outs of permitting and his knowledge about the topic–accumulated by helping customers with their permitting over the past decade.
Tell us about your background in permitting and how you've helped your customers to attain permits for their projects?
I gained a lot of experience by building my own home and as working as a sales engineer with ATI. I have worked with a wide range of customers pursuing permits, helping them with their research and working closely with builders and customers as they navigate through this potentially arduous process. By developing relationships with building department contacts and permit acquisition specialists, I have accumulated a vast amount of information that I can use to help our customers who need permits before they can build their greenhouses. By knowing the obstacles and pitfalls, I can guide them through the process and help them to find the right resources.
Organization is the key. Tell us why and how you help your customers to be organized in this process?
Thinking the entire process through is important. If you know what to expect, you won't run into surprises that can delay the permitting process. In some cases, there are things you can anticipate, like Kit Foxes on your property and the environmental concerns associated with that. But by carefully preparing the information that will be required, including things such as the structural engineering for the project, our customers can put them in the best position that they can possibly be in. Things such as local regulations will change, but if you're organized, you can deal with them and get the permitting done as drama-free as possible.
What are the areas where people seem to drop the ball when it comes to permitting?
By not providing the correct answers and by not completing the proper information for the building and planning department. It is not an easy process and some people get intimidated. They underestimate the time that it takes to get a project online and in some cases, they think they can do it alone.
What is your success rate in this regard?
We have a very high degree of success, because between all of us at Agra Tech, we have well over 300 years of greenhouse engineering and manufacturing experience combined.
Is it a trial and error type of thing? It seems like a lot of these permitting projects have to be re-submitted before they go through?
It's an investigation type of thing, depending upon the location of the proposed greenhouse and the depth of the requirements. When resubmission is required, we are there to help and provide as many answers as possible regarding the structural engineering of the Agra Tech greenhouse and we are in the loop until we get the project online.
How can you find a good, reliable person to help your customers as they navigate through the process?
The first thing we tell people is ask everyone concerned–local contractors are an excellent source, county offices and the local economic development department are all good places to start. In each area, it is different. It could be a contractor or a retired building department employee or an engineer. For example, in Stanislaus County an electrical contractor has a team of engineers and strong relationships with county departments. Another one is in San Diego County, where a retired building department official who knows the ins and outs of obtaining permits in that county is our go-to person there. Therefore, it differs based on the region.
So, it is tougher to get building permits in certain states/regions?
Definitely. California is one that requires a very organized approach, while Florida, on the other hand, makes it relatively simple, comparatively speaking.
Q: What role do you play in these permitting projects?
I am a resource and project advocate and my role is one of support and guidance. I help our customers understand what is involved and prepare them for what is expected.
What was your response for this presentation and how many people attended?
It was extremely positive with lots of interaction. There was a lot of interest in this topic and approximately 150 people attended the presentation.
Tell us a specific scenario where your knowledge & experience helped a customer to get a permit for their greenhouse project?
Of course. Dave Wilson Nursery in Stanislaus County is a prime example. We located and connected them with a permit acquisition specialist–Brett Russell, of Interstate Electric. Then, we conducted a team meeting with the customer to develop a proposal. We crafted the proposal very carefully, making sure we answered all the potential questions and addressed areas that may cause concern. We made sure to include input from people at work on every aspect of the project. The team has years of experience interfacing with building officials which proved to be very important as the process unfolded. The team developed the specs and the documents required to submit the permit package and, with perseverance, it went through with flying colors. By working with us in conjunction with Brett Russell, who knew the process in his county, our customer was successful in accomplishing their goal of receiving a permit. The time and energy they put in to prepare their permit package really paid off in the end.